Company Name
Contact Info
Location

HARPUT TEKSTİL SAN. VE TİC. A.Ş. - MİRANLI ŞUBESİ

Organize Sanayi Bölgesi 9 Nolu Cadde No: 6 / Mustafakemalpaşa / BURSA / TÜRKİYE

Hall: 7

Stand: 728

Product Groups

Elastane Yarns
Polyester Yarns
Textured Yarns
Fancy Yarns
Technical Yarns
Company Info

Products

Represented Companies

Company Brands
Miranlı is the brand of Harput Holding, specialized in manufacturing PES yarns. Despite the fundamentals of Miranlı is based on traditions of Haput Holding, Miranlı is the youngest branch of the family and keep up with modern world, thanks to its young and visionary team. Miranlı İplik, Europe s biggest polyester texturizing yarn investment recently, is operating at full capacity with its 15 unique brands.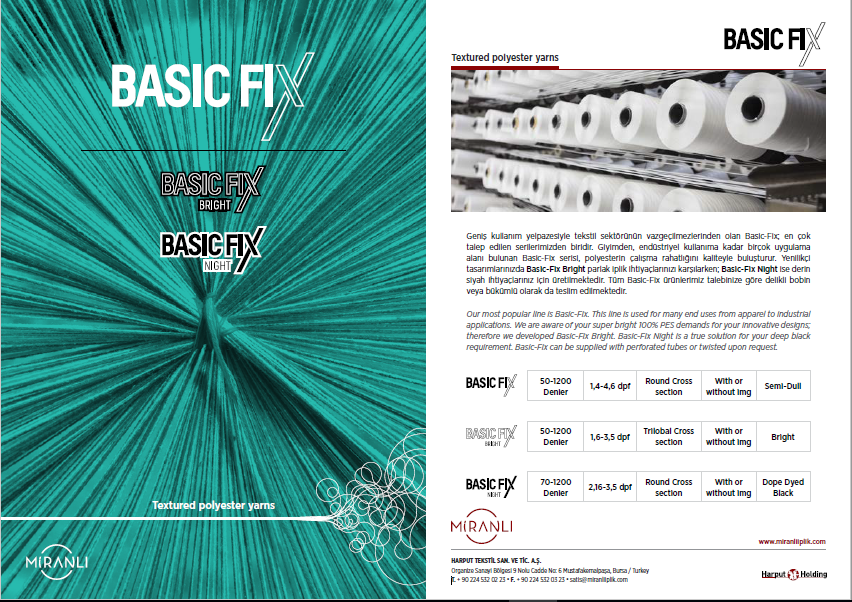 PRODUCT DESCRIPTION:
We are aware of your super bright 100% PES demands for your innovative designs; therefore we developed Basic-Fix Bright. Basic-Fix Night is a true solution for your deep black requirement. Basic-Fix can be supplied with perforated tubes or twisted upon request.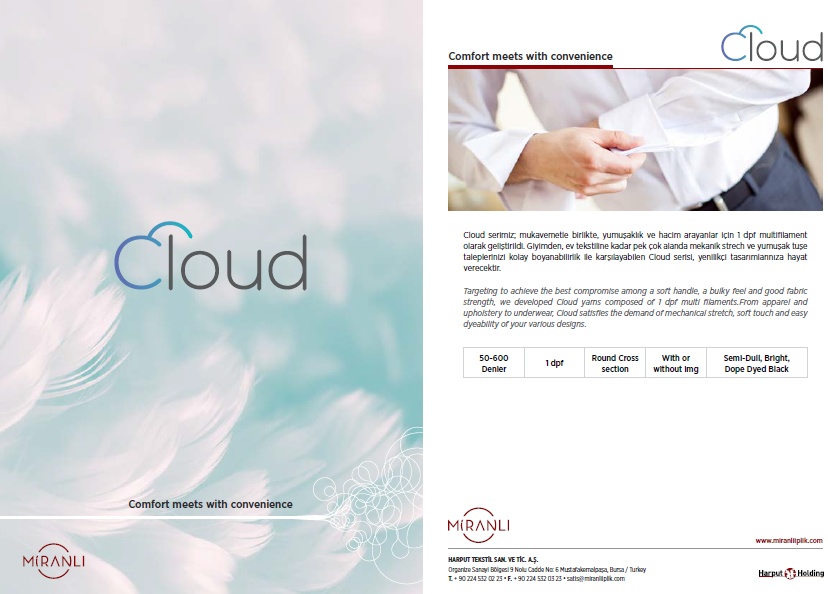 Cloud
Comfort meets with convenience
PRODUCT DESCRIPTION:
Targeting to achieve the best compromise among a soft handle, a bulky feel and good fabric strength, we developed Cloud yarns composed of 1 dpf multi filaments. From apparel and upholstery to underwear, Cloud satisfies the demand of mechanical stretch, soft touch and easy dyeability of your various designs.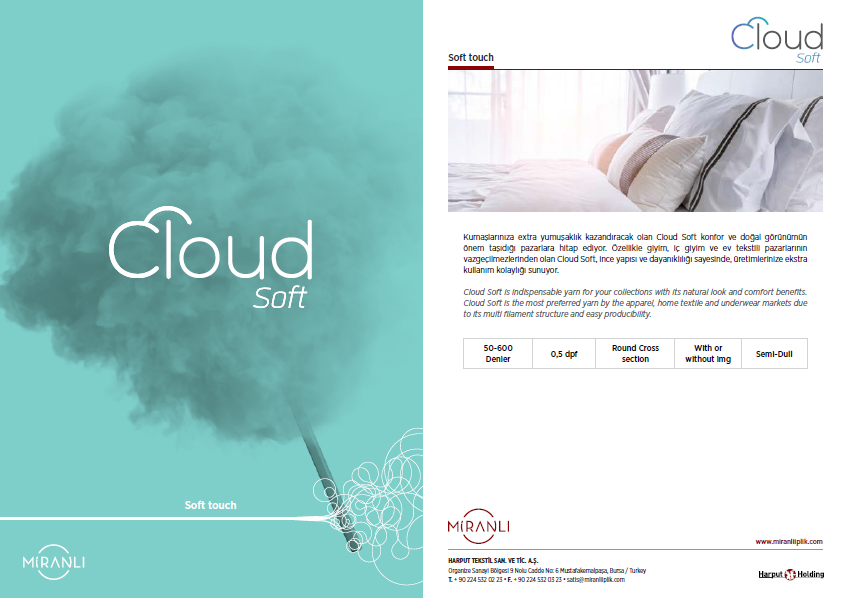 PRODUCT DESCRIPTION:
Cloud Soft is indispensable yarn for your collections with its natural look and comfort benefits. Cloud Soft is the most preferred yarn by the apparel, home textile and underwear markets due to its multi filament structure and easy producibility.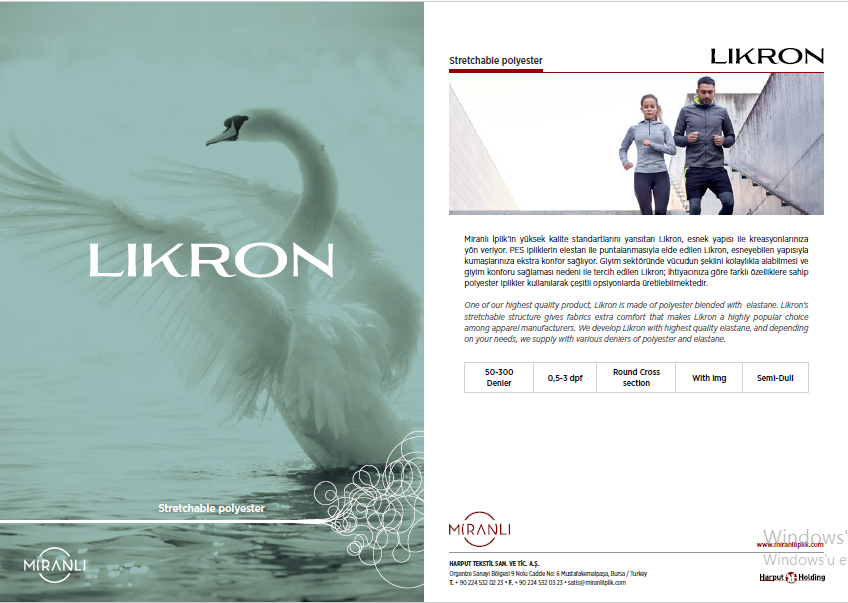 Likron
Stretchable polyester
PRODUCT DESCRIPTION:
One of our highest quality product, Likron is made of polyester blended with elastane. Likron s stretchable structure gives fabrics extra comfort that makes Likron a highly popular choice among apparel manufacturers. We develop Likron with highest quality elastane, and depending on your needs, we supply with various deniers of polyester and elastane.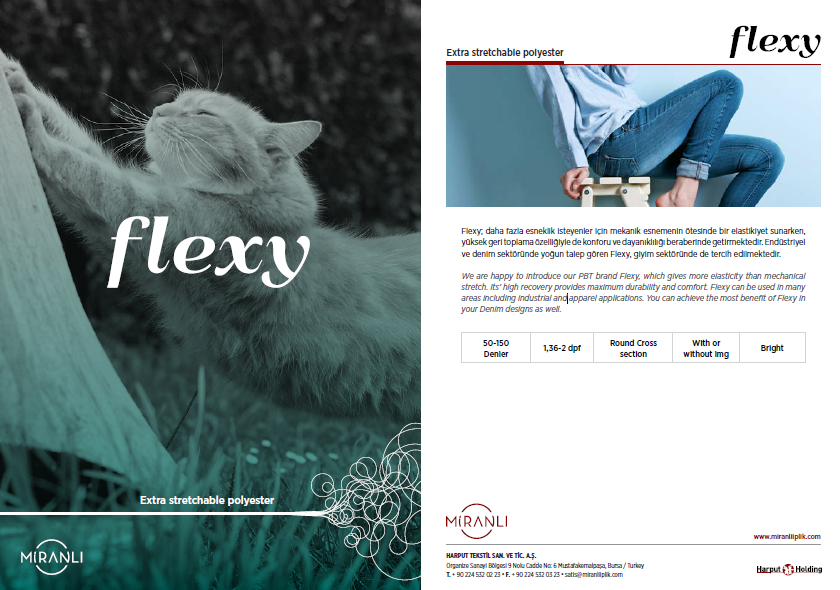 Flexy
Extra stretchable polyester
PRODUCT DESCRIPTION:
We are happy to introduce our PBT brand Flexy, which gives more elasticity than mechanical stretch. Its high recovery provides maximum durability and comfort. Flexy can be used in many areas including industrial and apparel applications. You can achieve the most benefit of Flexy in your Denim designs as well.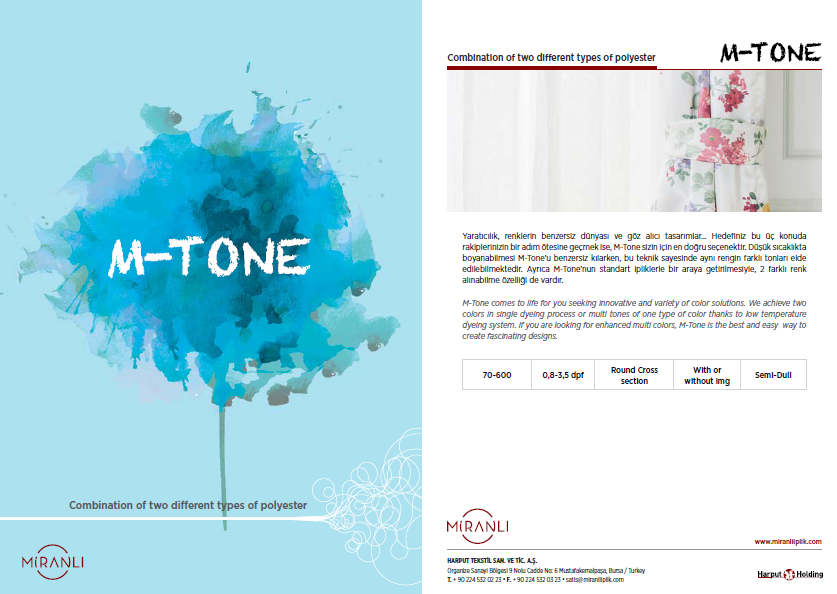 M-Tone
Combination of two different types of polyester
PRODUCT DESCRIPTION:
If your goal is to be one step ahead of your competitors in these three areas, M-Tone will be the right choice for you. When combined with standard yarns, 2 different colors can be obtained.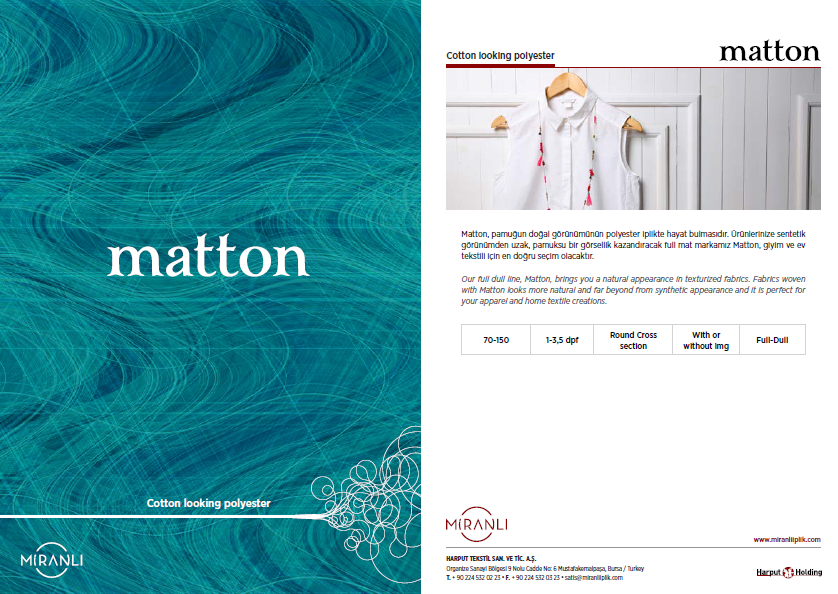 Matton
Cotton looking polyester
PRODUCT DESCRIPTION:
Our full dull line, Matton, brings you a natural appearance in texturized fabrics. Fabrics woven with Matton looks more natural and far beyond from synthetic appearance and it is perfect for your apparel and home textile creations.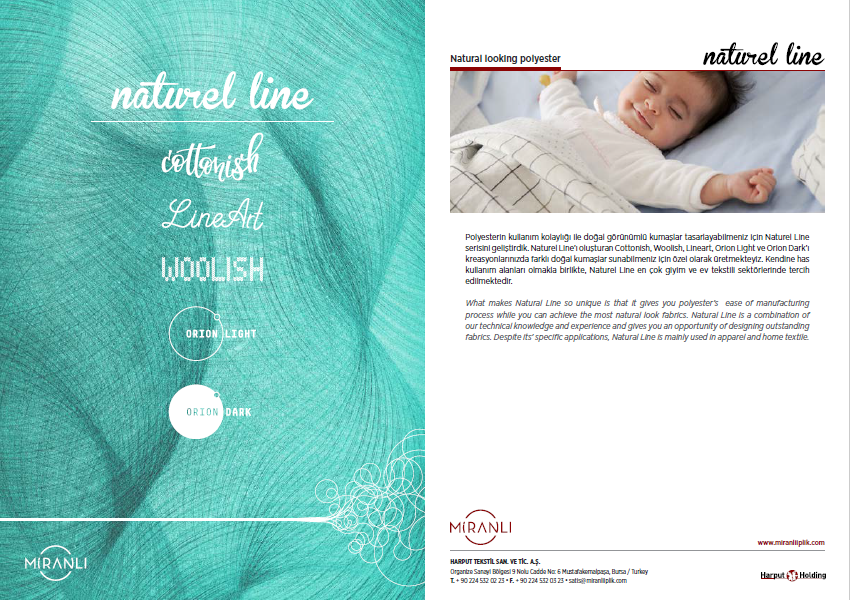 Naturel Line
Natural looking polyester
PRODUCT DESCRIPTION:
What makes Natural Line so unique is that it gives you polyester s ease of manufacturing process while you can achieve the most natural look fabrics. Natural Line is a combination of our technical knowledge and experience and gives you an opportunity of designing outstanding fabrics. Despite its specific applications, Natural Line is mainly used in apparel and home textile.
No represented companies found.
BASİC FİX
CLOUD
CLOUD SOFT
LİKRON
FLEXY
M-TONE
MATTON
NATURAL LİNE
REVİVO